A Tasting of Smoked Beers
July 10 2014 - 4:06 PM
Little by little the German specialty of smoking beers is becoming increasingly popular to brewers here in the States as they more often than not are bottling these beers for a wider consumption. The most famous of smoked beers are rauchbiers (the pronounciation of the "ch" is of a "k" sound) from the city of Bamberg, in the Franconian region of Barvaria in Germany. Beechwood-smoked malt is used to make a Marzen-style (Oktoberfest) amber lager.
While Germans use Beechwood to smoke their malts, American brewers are more experimental with their selection of wood. This, coupled with the fact that the intensity of the smoke character in the beer can vary widely, will affect the balance of the beer. We will pit two American challengers to two beers brewed by the classic Schlenkerla brewery.
First, the hefeweizens:
Gigantic Brewing "Firebird" (Portland, OR)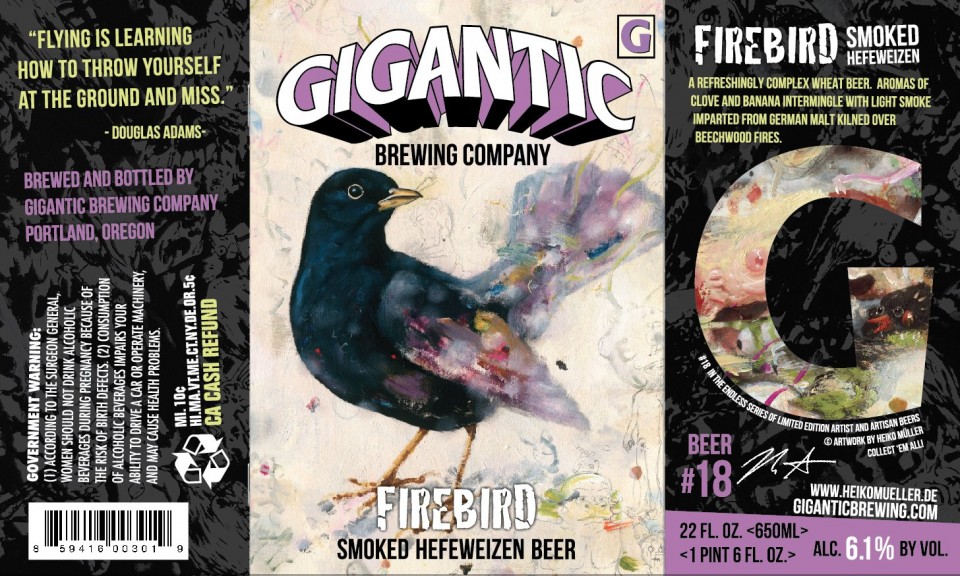 Refreshing and complex. Light smoke from German malt kilned over beechwood fires melds perfectly with aromas of clove and banana from German wheat beer yeast. In the classic style since Gigantic uses beechwood to smoke their malts, but higher in alcohol (6.1%) than a normal hefeweizen. Besides that, Gigantic makes a beautifully balanced beer. Firebird has that golden-yellow haziness to it and the smoked malts do not overpower the subtle flavors one finds in a hefeweizen which in turn adds another layer to the beer with a bit a bourbon vanilla or caramel glazed that hits the back of your tongue.
Aecht Schlenkerla Weizen

At 5.2% ABV, this beer is more in the traditional wheelhouse of a hefeweizen, but that is to be expected with such a classic brewery. Like other Bavarian wheat beers, the Weizen is brewed with a mixture of both barley malt and wheat malt. The portion of barley malt is hereby a classic Schlenkerla smoke malt, while the wheat malt remains un-smoked.
Served unfiltered with its natural haziness, Schlenkerla Weizen reaches its full aroma through bottle fermentation with fine top fermenting yeast. I find that not smoking the wheat malt an interesting factor as I wonder if Gigantic did the same. This must mean that probably only 20-30% of the malt in this beer is smoked then. The bottle fermentation adds to the zesty, lightly spicy quality of the beer and gives the drinker everything they wanted in a sessionable beer, like a hefeweizen, but with an added twist.
Part two of this installment will have Helles Lagers from Schlenkerla and a Lake Effect/Finch's collaboration.
Photo credits: Beer Street Journal; Wine & Cheese Place